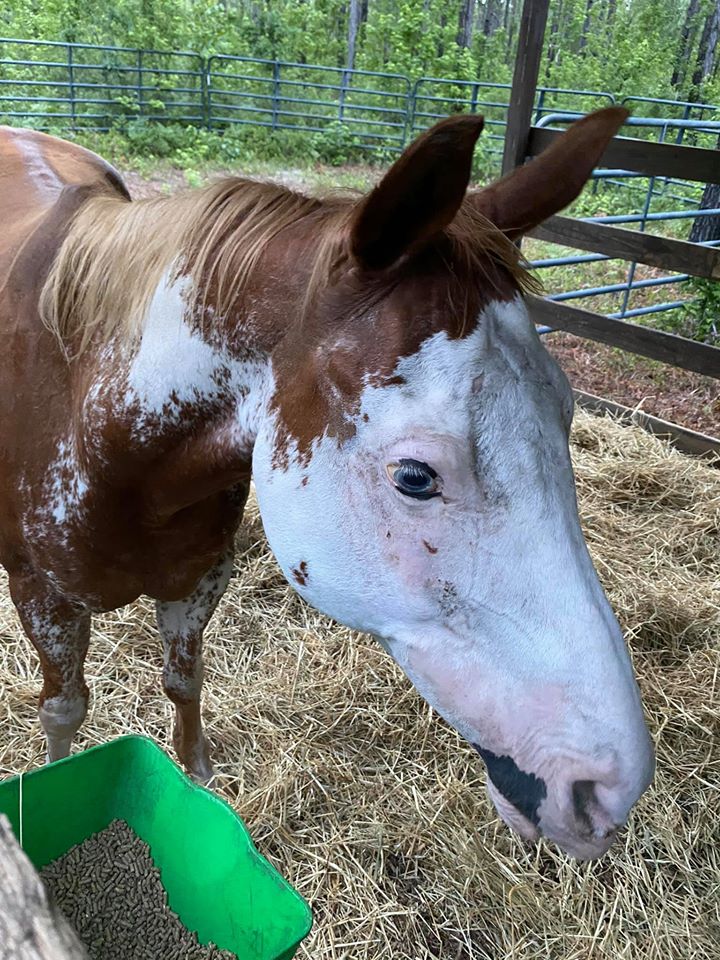 Critical Care Fund
We take in as many animals in need as is possible and sometimes we have those that require advanced medical or long-term care that becomes extremely expensive. We currently have a beautiful horse named Tatiana that requires a VERY expensive monthly treatment. Tatiana came to us from SC-Cares where it was discovered that she has EPM, a parasite that has neurological effects. The medication to help her overcome this is $1200 per month! This is one of our costliest medical cases so if you would like to help us with this cost or donate towards other special needs animals please click on the Donate Now button at the top of the page and choose the option Critical Care Fund when making your donation through our Paypal account and we will apply it towards their care. You can also leave a note in the Paypal screen to mention which animal you'd like to help. We want to give Tatti and all the others with special needs the best life possible! 
The original painting of Marley by Beth Corbin-Melotte was purchased for $200. The high bidder, Robin Jones, opted to donate the painting back to WTFC and Dale & Jeanette Ouellette in memory of Marley since he passed away the night before the auction ended. This is incredibly thoughtful and it will be cherished by Dale & Jeanette.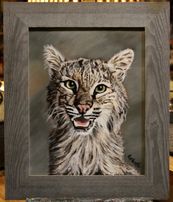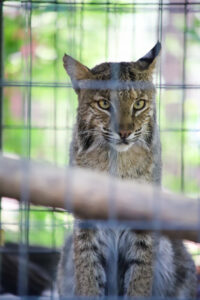 In early 2021 we took in a magnificent bobcat that we suspected had been hit by a car and we also discovered he had other medical issues that required our care. We eventually named him Marley and took on the task of getting him healthy enough to return to the wild. Even though his prognosis seemed positive, unfortunately all of his medical issues were too much for him to overcome after just a few months in our care. We were heartbroken that despite all of the efforts by the Wild Things staff and veterinarians our beloved Marley passed away the night of July 3rd. His illness simply overcame him. This was completely unexpected and we were shattered.
The auctions for the beautiful painting of Marley and the one of a kind t-shirt raised nearly $300 to go towards the medical and daily care he received during his time with us. We were very thankful for the love and support shown by our community for not only Marley but all of the animals at Wild Things Freedom Center. This is one of the hardest losses we have experienced and not one we will soon get over.
This is but one example of where your donations to our Critical Care Fund goes. We have many stories throughout each season that don't get the same attention but are as important to us as Marley was. These emergency cases are not something we can plan for as we never know how extensive the injuries are and what the care will be that they need. Therefore, having a Critical Care Fund set aside strictly for these unexpected cases is so important to our mission.
"Like us, animals feel love, joy, fear and pain, but they cannot grasp the spoken word. It is our obligation to speak on their behalf ensuring their well-being and lives are respected and protected."  – Sylvia Dolson