Wish Lists – Supplies & Materials
At Wild Things Freedom Center we create our budget in January for the upcoming year. When you donate a bag of grain, a bale of hay, a bag of dog food or any item from our Wish List, the value of that item comes out of our budget and goes into our New Construction and Maintenance Projects. This enables us to improve or add on to our Sanctuary site. For example, items recently donated in a 4-week period allowed us to purchase 2 Training Enclosures ($360 each). These new enclosures will save 12 more babies' lives. So when you donate that $2.39 bag of animal crackers or an $8 bale of hay we are able to purchase pieces of lumber which gets us closer to our goal of saving even more lives.
We have our own Sanctuary Wish List as well as an Amazon Wish List and a Wish List with Tractor Supply of Georgetown. We are also happy to accept gift cards from big box stores like Home Depot and Lowe's. All of these Wish List options are outlined below and there are links to get your started. 
Thank you for your continued support for the animals in our world!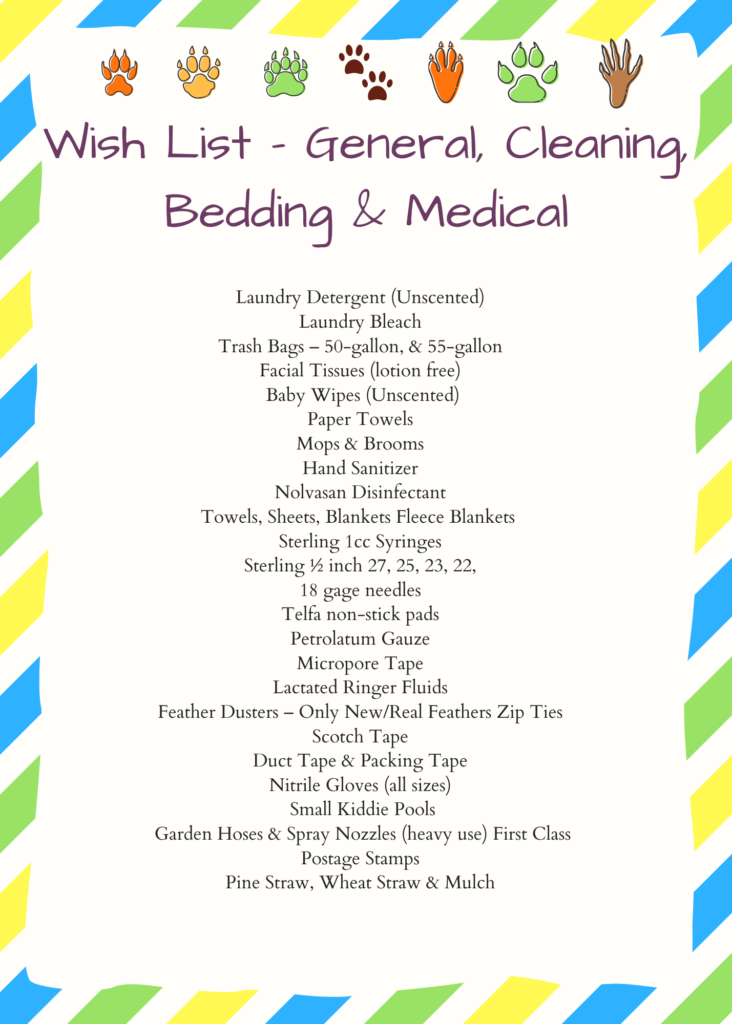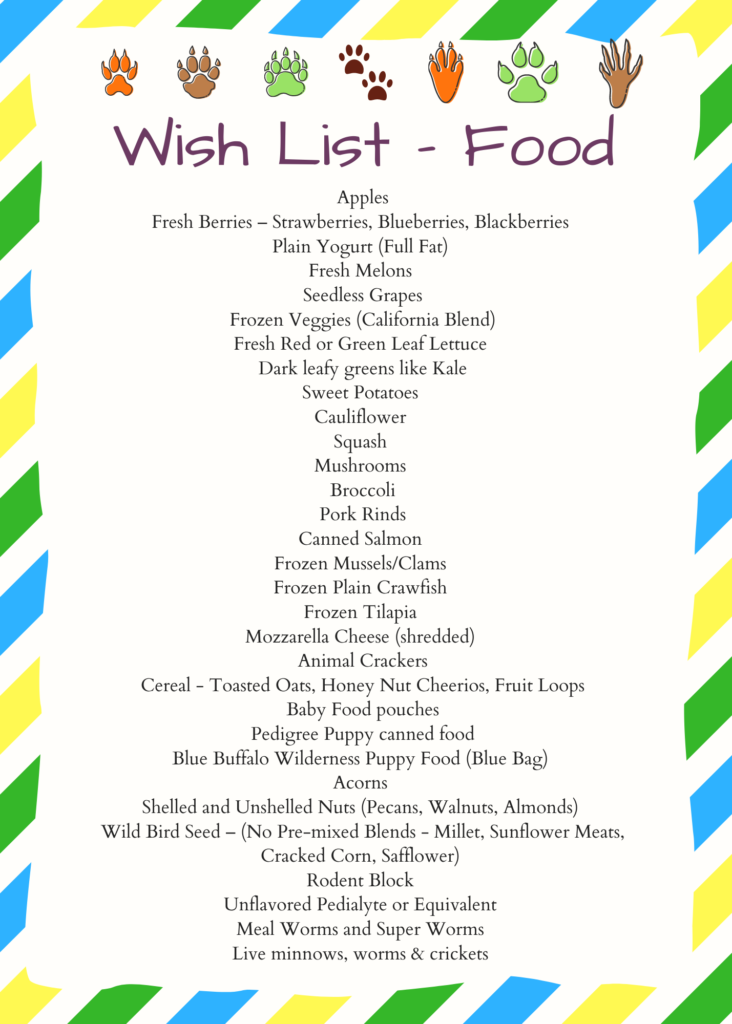 Tractor Supply Donation Program & Wish List
We are pleased to announce that we have teamed up with Tractor Supply of Georgetown, SC on a direct donation program. This program allows customers to purchase much needed supplies as a donation to Wild Things Freedom Center. These are items they carry on a regular basis so all you need to do is ask them about this program, the items we need, purchase them and then ask them to put your donations in the Wild Things Freedom Center pickup section. We have a volunteer that delivers things to us a few times a week and he will stop by and get them. This is an awesome way to help the wildlife of our area so be sure to grab one or more of the items shown (left) on your next trip to Tractor Supply. Here is a list to help you.
Sportmix Wholesomes Food for Dogs – chicken meal & rice formula
Treeline Deer Corn – Whole Kernel (40 lb. bag)
Producer's Pride Hog Feed Pellets (50 lb. bag)
Dumor Poultry 16% Layer Feed Crumble (50 lb. bag)
Value Mix Wild Bird Food (35 lb. bag)
Purina Strategy Professional Formula (50 lb. bag)
Dumor Equistages Equine Feed (50 lb. bag)
Nutrena Safe Choice Maintenance Pellet  (50 lb. bag)
Record Rack Sportsman Deer & Elk Feed (50 lb. bag)
Pedigree Adult dry dog food (20.4 lb bag)
Tractor Supply Address: 1295 N Fraser St, Georgetown, SC 29440
Tel: (843) 546-5056